Sorenson BuzzStickers
Sorenson BuzzStickers are the latest way to stay ntouch! Have even more fun communicating by using ASL "stickers" in your text messages to friends and family. Sorenson BuzzStickers for iOS® and Android™ are animated images of ASL signs and expressions that can be sent in a text message or alone as a picture. Examples include "jaw drop" and "I love you." To send a sticker, start a text message, tap on the sticker and send. It's that easy!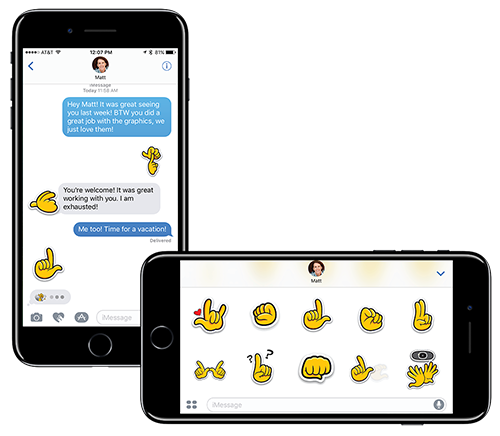 View all the BuzzStickers
Download the Sorenson BuzzStickers app today!


BuzzStickers for iOS QuickHelp(PDF)
BuzzStickers for Android QuickHelp (PDF)
---
Sorenson BuzzCards
Type it. Show it.
Sorenson BuzzCards simplify face-to-face communication with people who don't know sign language. The app works like a deck of flashcards. Type a message and show it to the person with whom you are communicating. It's easy and convenient!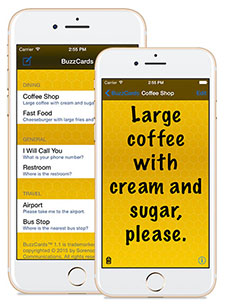 BuzzCards let you:
Create and store cards ahead of time
Make or edit cards on the fly
Organize cards by category
Adjust font size for maximum readability
Download the Sorenson BuzzCards app today!