Experience ntouch® for iPhone® and iPod touch®
ntouch® Mobile, the SVRS® smart phone app, is now available for the iPhone 4, iPhone 4S, iPhone 5, and iPod touch with a front-facing camera. Sorenson Communications®, the trusted name in products and services for the deaf, delivers our most popular features and more in a VP that fits in your pocket.
ntouch Mobile helps you connect everyday, everywhere.
Get the ntouch Mobile app for iOS and experience full video relay on-the-go. Simple to use on Wi-Fi and either AT&T, Verizon, or Sprint networks with an accompanying data plan.
ntouch Mobile for iOS - Highlights
1-Line Voice Carry Over (VCO)
New Deaf SignMail®, including "Skip Greeting"
Enhanced Video Center
Share options, including Location, Contacts and Text
New Incoming Call Ring Count setting
Network Connection warning
Import contacts from other Sorenson videophones
Access Sorenson Video Center with SignMail®
Call history for recent/missed/received calls
Sorenson Contacts List
Block List
Use Sorenson Directory feature to locate places to call
Emergency 911 service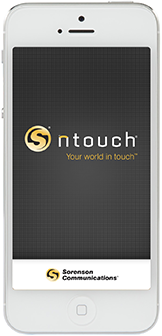 Apple iPhone