ntouch
Using cutting-edge technology, Sorenson Video Relay Service® (SVRS®) has designed the ntouch® group of products specifically for deaf communication. Sorenson products provide the clearest video, the best features and are the easiest to use. The ntouch family includes the ntouch VP, ntouch PC, ntouch for Mac, ntouch Tablet and ntouch Mobile. To make communicating even easier, all your ntouch devices can be combined into a Sorenson myPhone Group that shares only one number. Together with the highest-quality SVRS interpreters, the ntouch group of products provide you with best possible VRS experience!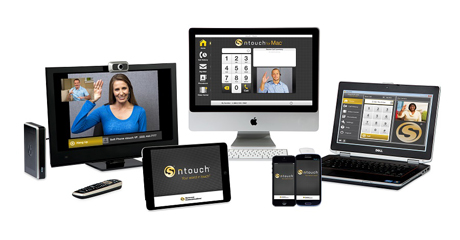 Always looking to innovate, the latest feature release from Sorenson VRS empowers you to personalize the calling experience like never before.
Personal SignMail Greeting
Say what you want to say! With Personal SignMail Greeting you can set up your own unique SignMail greeting. Learn more here.
Contact Photos
Smile! Contact Photos enables you to create your own SVRS profile photo to be seen in the Contacts List of your friends and family. Learn more here.
Enhanced Share Text
Share more! With Enhance Share Text you can send and receive text during calls on all ntouch devices, including the ntouch VP. Learn more here.
Call Transfer
Take control! Call Transfer gives you the ability to transfer a call from one ntouch device to another. Learn more here.
VRS Announce
You decide! VRS Announce empowers you to choose how your VRS calls are announced. Learn more here.